Classification of Ameloblastoma:
Based on clinical, radiographic & histopathology & behavioural & prognostic aspects, Ameloblastoma is classified as:
Classic- Solid/ Multicystic ameloblastoma (SMA)
Unicystic ameloblastoma (UA)
Peripheral ameloblastoma (PA)
Desmoplastic ameloblastoma (DA), including hybrid lesion.
Solid/ Multicystic Ameloblastoma (SMA)
Clinical Features:
Benign epithelial tumour, with almost no tendency to metastasize. Though it is locally invasive.
High recurrence if improperly removed
Located centrally (intraosseous).
Few or no clinical signs in early stages.
Later signs:
Facial deformity, loose teeth
Spontaneous fracture may be seen.
Bony swelling may be seen
Pain: Due to either pressure of growing tumour on nerves or secondary infection.
Enlarging tumour makes the surrounding bone elicit Crepitation/ Egg shell crackling
Perforation of bone may occur.
Radiographic features:
Multilocular lesion- typical appearance
Unilocular may also be seen.
Unilocular:
Well defined single radiolucency.
If associated with unerupted tooth, may resemble Dentigerous cyst or OKC.
Epidemiology:
Black> White
Age– 35-37 yrs average age at time of diagnosis.
According to Gardener, mean age at time of diagnosis:
SMA– about 39 yrs
Unicystic– about 22 yrs
Peripheral– about 51 yrs
Gender– almost equal or slight male (1.1:1) predilection.
Location: Mandible> Maxilla (2.2:1)
Posterior mandible> anterior mandible> posterior maxilla> anterior maxilla
Pathology:
Pathogenesis:
Mostly arise from odontogenic epithelial remnants, specifically remnants of dental lamina.
If these remnants lie outside bone in soft tissues, they form Peripheral Ameloblastoma.
May arise as neoplastic change in lining or wall of cysts like Dentigerous or OKC called Mural ameloblastoma. (usually seen in posterior region).
May originate from Epithelial rests of Malassez.
Microscopy:
WHO 1992 definition: A polymorphic neoplasm consisting of proliferating odontogenic epithelium which usually has a follicular or plexiform pattern lying in a fibrous stroma.
The various histologic patterns of SMA include:
Follicular pattern
Epithelial Islands: Contain central mass of polyhedral cells, or loosely connected angular cells resembling stellate reticulum.
Peripheral cells in the epithelial islands are cuboidal or columnar resembling inner enamel epithelium or pre-ameloblast.
Cystic degeneration is common within epithelial islands
Plexiform pattern
Tumour epithelium arranged as a network
This network bound by cuboidal to columnar cells & includes Stellate Reticulum like cells.
Cyst formation is due to stromal degeneration may be seen.
Hyaline bodies like odontogenic cyst epithelium/wall may be seen
Acanthomatous SMA:
Extensive squamous metaplasia
Keratin may be formed sometimes (within tumour island)
Generally, shows follicular pattern
Third most common histologic type.
Granular cell SMA:
Most often it shows Follicular pattern.
Granular transformation of central stellate cells.
Granular cells may be Cuboidal, Columnar or Round.
Cytoplasm filled with Acidophilic granules.
Granularity may be due to increased apoptosis & phagocytosis of cells by neighbouring neoplastic cells.
Desmoplastic SMA:
Usually follicular pattern of SMA
Connective tissue shows marked hyalinization (desmoplasia).
Basal cell SMA:
Resemble basal & suprabasal spinosum cells.
Rare variant
SMA shows predominant basaloid pattern.
Most actively proliferating type. It shows positive labelling for bothPCNA & KP-67.
This variant has most immature cells.
Clear cell SMA:
Clear cells in stellate cell area of SMA follicles
PAS positive
May show malignant transformation.
Keratoameloblastoma(KA) & papilliferous KA:
Simultaneous occurrence of areas of Ameloblastoma with pronounced keratinization & cystic areas of resembling OKC.
Extremely rare.
Connective tissue of all histologic variants of SMA:
Contains fibroblasts, collagen fibres & myofibroblasts.
Treatment:
Treatment ranges from simple enucleation and curettage to en bloc resection.
Curettage only, often leave small islands of tumor within the bone, this results in recurrences (50-90%).
Marginal resection: Most widely used treatment, but recurrence of up to 15% may be seen.
Removal of the tumor, followed by peripheral ostectomy, often reduces the need for extensive reconstructive surgery.
Ameloblastomas of the posterior maxilla are particularly dangerous because of the difficulty of obtaining an adequate surgical margin around the tumor.
Though ameloblastoma is radiosensitive, Radiation therapy is contraindicated because of a possibility of secondary radiation-induced malignancy.
Unicystic Ameloblastoma
Well defined, often large monocystic cavity with a lining.
Locally but rarely entirely lined by odontogenic epithelium.
On the Luminal surface of cyst, one or several polypoid or papillomatous, pedunculated exophytic masses may be seen: These are called Intracystic, Luminal or Intraluminal ameloblastoma.
Epithelial nodules may grow within the connective tissue: Called Mural or Intramural.
May be associated with an unerupted tooth.
Clinical & Radiographic findings:
If there is secondary infection:
Local swelling
Occasional pain
Lip numbness
Discharge or drainage
May be unilocular or multilocular; Unilocular more common
Root resorption is common.
If crown of unerupted tooth is involved, it is displaced by cystic tumour rather than project into cystic lumen – Differentiation from Dentigerous cyst.
Epidemiology:
Tooth associated lesion occurs in younger patients compared to those not associated with tooth.
Males: Tooth associated lesion more common; Females: Lesion without tooth are common.
Mandible > Maxilla; Posterior mandible & ascending ramus is most commonly involved.
Pathology:
Pathogenesis:
May arise from pre-existing odontogenic cyst (commonly Dentigerous cyst) or it may arise de novo.
According to Leider et al.: They may arise from:
From REE.
From Dentigerous or another odontogenic cyst.
From Solid ameloblastoma undergoing cystic degeneration.
Microscopy:
Minimum criteria for diagnosing a lesion a unicystic ameloblastoma:
Single cystic sac.
Lined by odontogenic epithelium (usually present locally).
Epithelium may be variable, mimicking lining of Dentigerous or Radicular cyst.
Sub-groups of unicystic ameloblastoma:
Luminal type:
Epithelial lining may show transformation to cuboidal or columnar basal cells.
Nuclear palisading with polarization.
Cytoplasmic vacuolization.
Intercellular spacing.
Sub-epithelial hyalinization.
Intramural tissue:
Infiltration from cyst lining or as free islands of follicles (SMA) often with central cystic degeneration.
About 2/3 of both tooth-associated & non-tooth-associated show intramural invasion.
Though slightly more common in non-tooth type.
Intra luminal proliferation more common in tooth associated type.
Tumours with intramural invasion have higher recurrence.
Treatment:
May be treated conservatively by enucleation or it may need aggressive treatment as classic SMA, depending on the histopathologic presentation.
Peripheral Ameloblastoma:
Peripheral ameloblastoma is a benign neoplasm or hamartomatous lesion confined to soft tissue overlying tooth bearing area of jaws.
Several characteristic similar to SMA.
Do not invade underlying bone.
Clinical & Radiographic features:
Painless, sessile, firm & exophytic growth.
Surface is relatively smooth, but may be granular or pebbly. Sometimes Papillary or Warty.
Surface colour: Normal to red to dark red.
Size– 0.3 to 4.5 cm (1.3 cm)
Superficial bone erosion may be seen, due to pressure of lesion.
Epidemiology:
2-10% of all Ameloblastomas.
Age– 9-92 yrs. (Average age: 52 yrs.). More common in 5th to 7th decade.
Gender: more common in males.
Location: more common in mandible. Mandibular premolar region most common site.
Pathology:
Pathogenesis:
Probably arises from dental lamina remnants. (cell rests of Serre).
May also arise from surface epithelium. Continuity between tumour & surface epithelium has been seen.
Microscopy:
Epithelium:
Epithelial islands show palisaded columnar basal cells.
Stellate reticulum like cells are few in number (negligible).
Lesions exhibiting Acanthomatous areas are difficult to distinguise from Basal cell carcinoma.
Ghost cells in Acanthomatous area may be seen. May be confused with Calcifying ghost cell odontogenic cyst.
Vacuolated or clear cells may be seen in some parts of tumour as clusters.
Stroma:
Mature fibrous connective tissue (calcification may be seen sometimes).
Treatment:
It exhibits a milder biologic behaviour than the SMA. So, wide excision is usually not needed.
Conservative supra-periosteal surgical excision with adequate disease-free margins.
Recurrence rate lower than SMA.
Desmoplastic Ameloblastoma
Extensive stromal collagenisation or desmoplasia.
Hybrid ameloblastoma: Shows features of both Desmoplastic variant & classic follicular ameloblastoma. It is probably a transitional form of desmoplastic ameloblastoma.
Clinical features:
Benign, locally infiltrative, epithelial neoplasm.
A variant or sub-type of SMA.
Painless swelling: chief complaint in most cases.
Radiographic features:
Well defined borders are usually not seen.
Mixed radiolucent/ radiopaque in most cases.
Root resorption is common.
New bone formation may be seen.
Shows infiltration in adjacent bone marrow space. It causes ill-defined borders of lesion.
Epidemiology:
4-13% of all SMA
Age – 17-72yrs (43yrs)
Slight or no male predominance.
Occurs with almost equal frequency in both jaws. More common in Anterior region.
Pathogenesis:
Microscopy:
Consists of proliferating, irregular, often bizarrely shaped islands and cords of odontogenic epithelium of varying sizes embedded in a desmoplastic connective tissue stroma.
Epithelial islands:
Irregular in shape and have a pointed stellate appearance.
Pathognomonic animal like outline.
Peripheral epithelial cells are usually cuboidal, rarely columnar with reversal of polarity.
Hyperchromatic nuclei may be seen sometimes.
Centre of epithelial islands:
Hypercellular with spindle shaped or squamatoid or rarely keratinized epithelial cells.
Microcysts containing eosinophilic amorphous deposits or empty are common within tumour islands.
Foci of keratinization may be seen sometimes.
Glandular differentiation with mucous cells formation may be seen in tumour nests.
Connective tissue stroma:
Extensive stromal dysplasia.
Moderately cellular, fibrous connective tissue.
Collagen fibres are thick & numerous. They appear to compress tumour islands.
Myxoid changes may be seen in stroma around odontogenic epithelium.
Metaplastic bone formation may be seen.
Capsule – peripheral fibrous condensation not always seen.
Treatment:
Same as SMA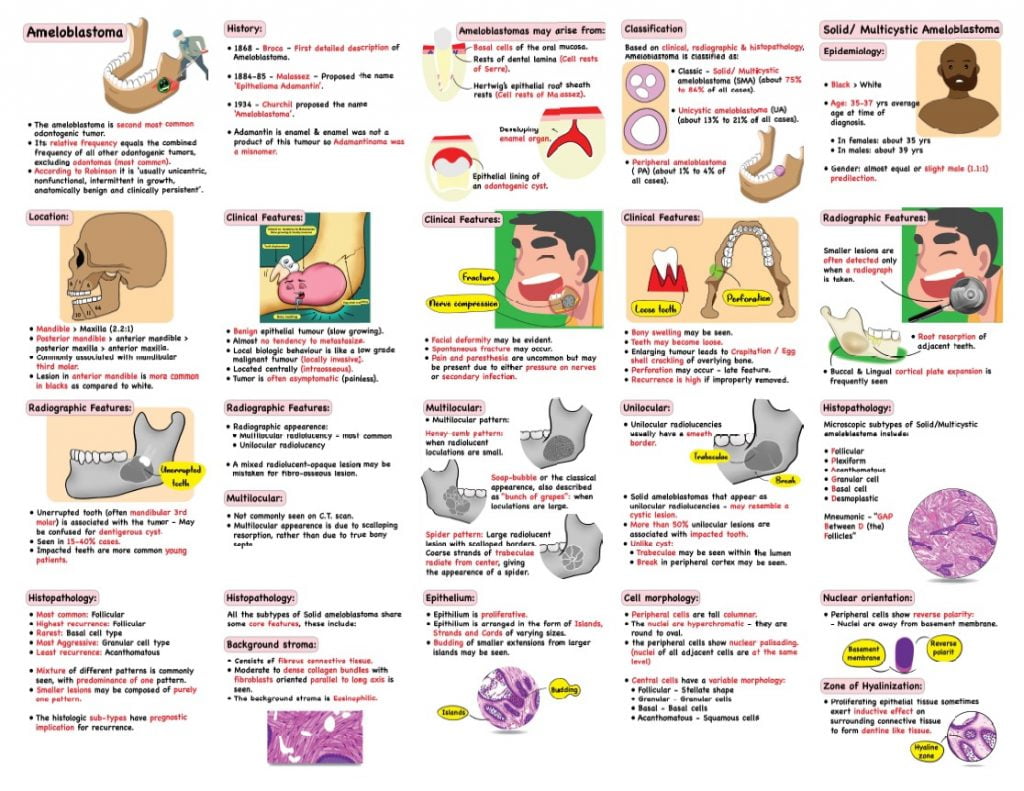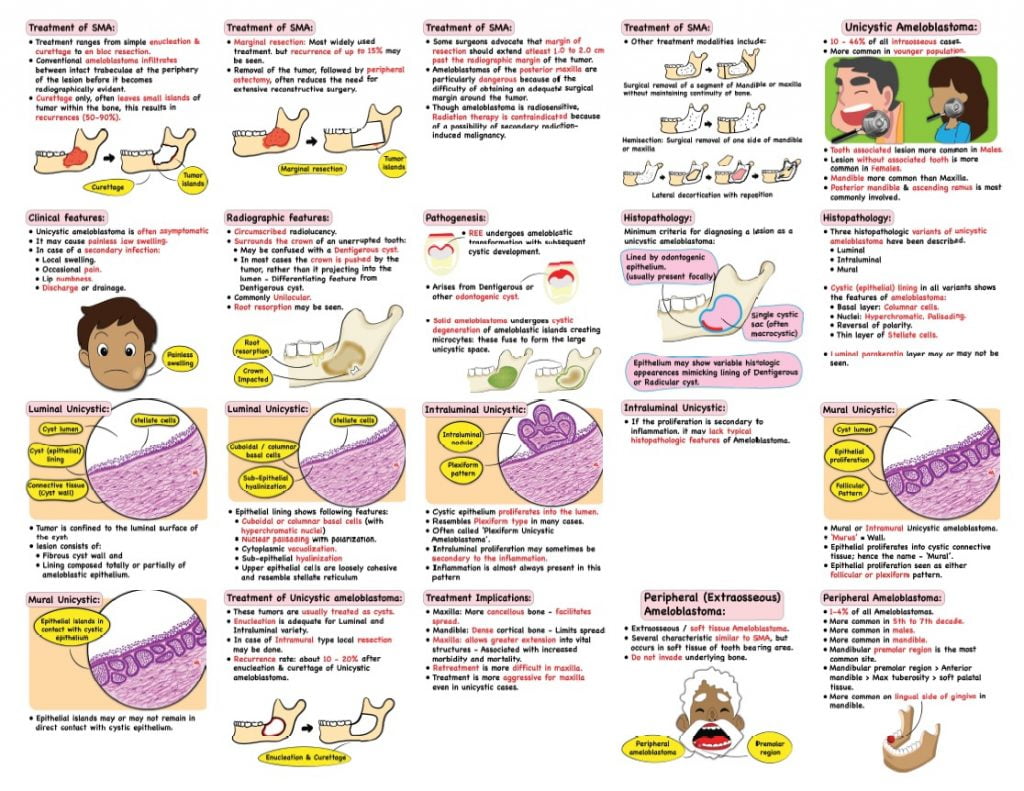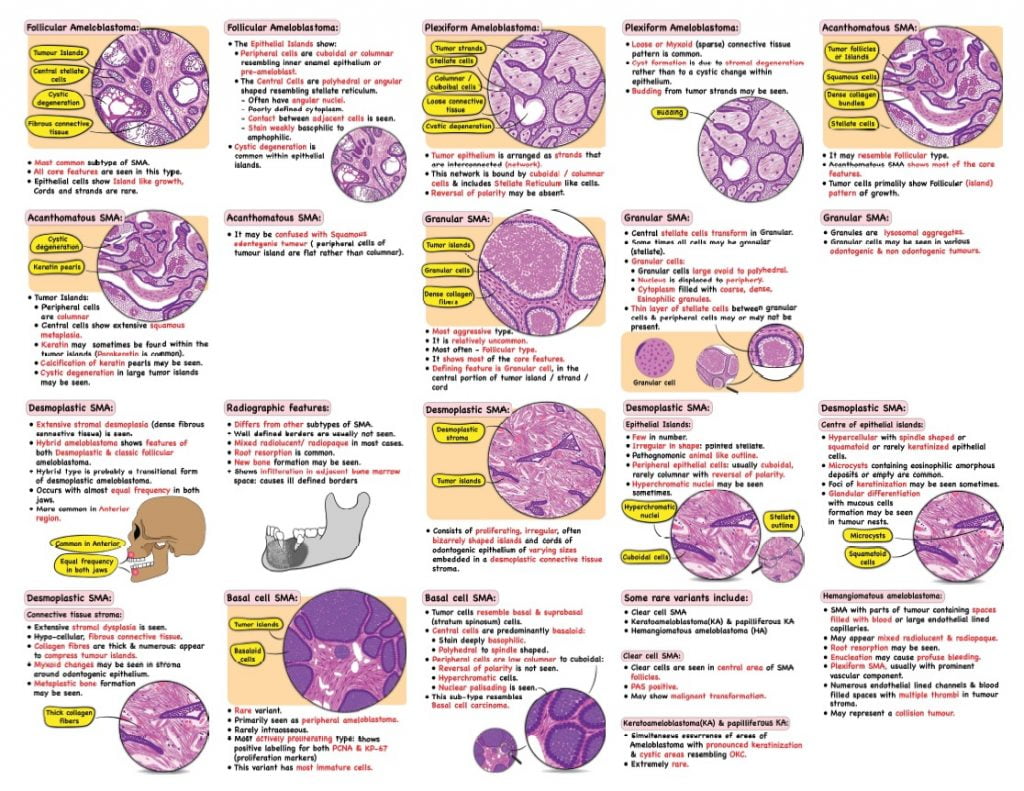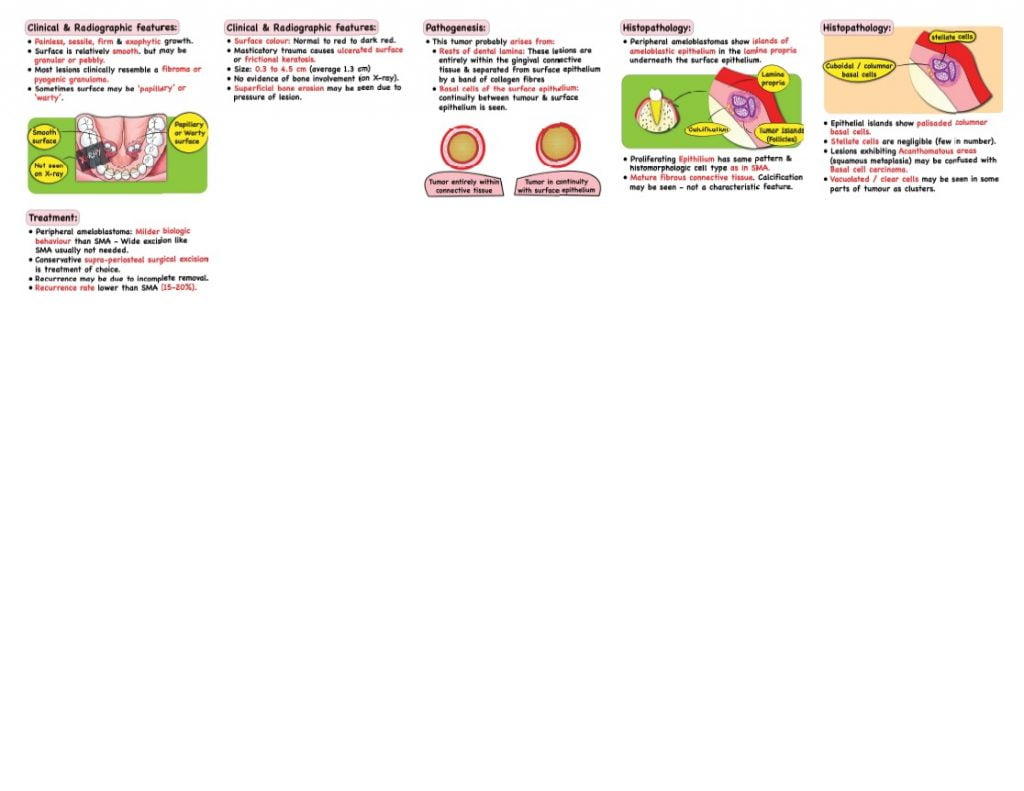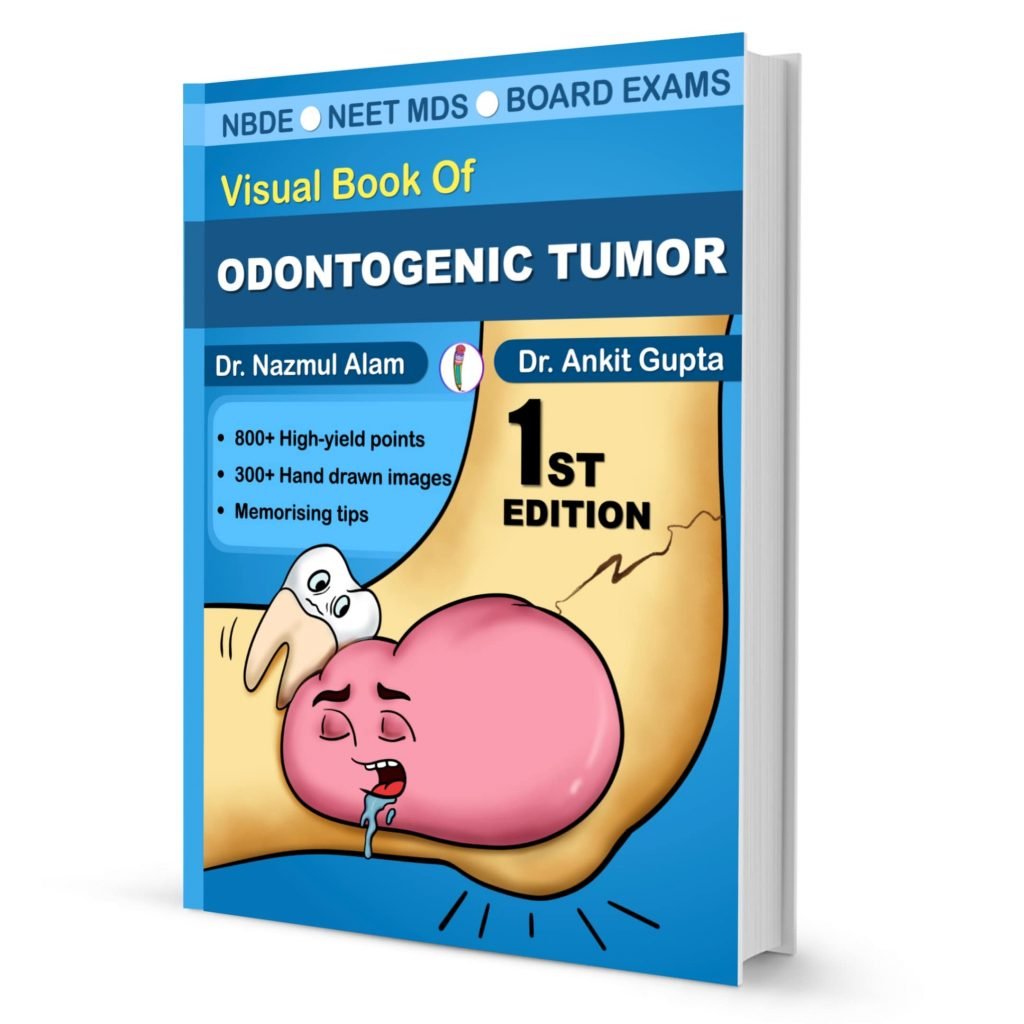 "High Yield Visual Book of Dental Cyst" is now available on "Medinaz" App. The App is available on Appstore & Playstore. Visit our website www.medinaz.com for other available books.
Book overview:
– All the necessary High-Yield Points
– 550+ Frequently tested facts
– 300+ hand drawn Images
– Mnemonics to remember
– Helpful for: NBDE, NEET MDS, and Board exams
– FREE UPDATES up to 1 year from the date of publish
– (Time span to be counted from the day it was published)
– Neatly organized materials
– Lifetime access
– Format Image based PDF
Check other Dental Notes: Click here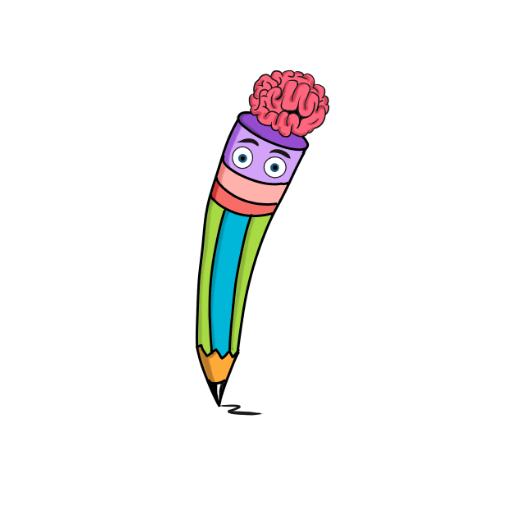 A Visual Learning Platform