Pancreatitis mnemonic: Best way to remember the causes of acute pancreatitis
What is pancreatitis?
Pancreatitis is inflammation of the pancreas. It occurs when the enzymes damage the pancreas, which causes inflammation. Pancreatitis can be acute or chronic.
Pancreatitis causes:
Conditions that can lead to acute pancreatitis include:
Gallstones
Obesity
Alcoholism
High blood triglyceride levels (hypertriglyceridemia)
Certain medications
High calcium levels in the blood (hypercalcemia), which may be caused by an overactive parathyroid gland (hyperparathyroidism)
Pancreatic cancer
Abdominal surgery
Cystic fibrosis
Infection
Injury to the abdomen
Trauma
Pancreatitis mnemonic:
The mnemonic for acute pancreatitis is:  "I GET SMASHED"
Idiopathic
Gall stones
Ethanol (alcohol)
Trauma
Steroids
Mumps / Malignancy
Autoimmune
Scorpion stings
Hypercalcemia / Hypoertriglyceridemia
ERCP – Endoscopic retrograde cholangiopancreatography 
Drugs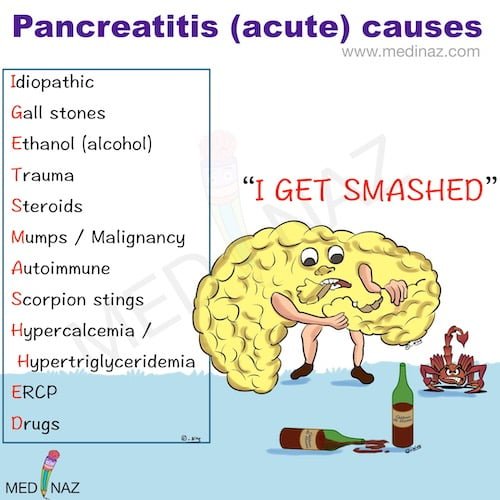 Few points to remember about pancreas
Most common cause of acute pancreatitis – Gallstone
Most common cause of chronic pancreatitis – Alcohol
Most common cause of chronic pancreatitis in children – Cystic fibrosis
Most common cause of pancreatic calcification – Alcohol
Most common congenital variant – Pancreas divisum
Most common site of thrombosis in chronic pancreatitis – Splenic vein
Most common site of pseudo aneurysm in chronic pancreatitis – Splenic artery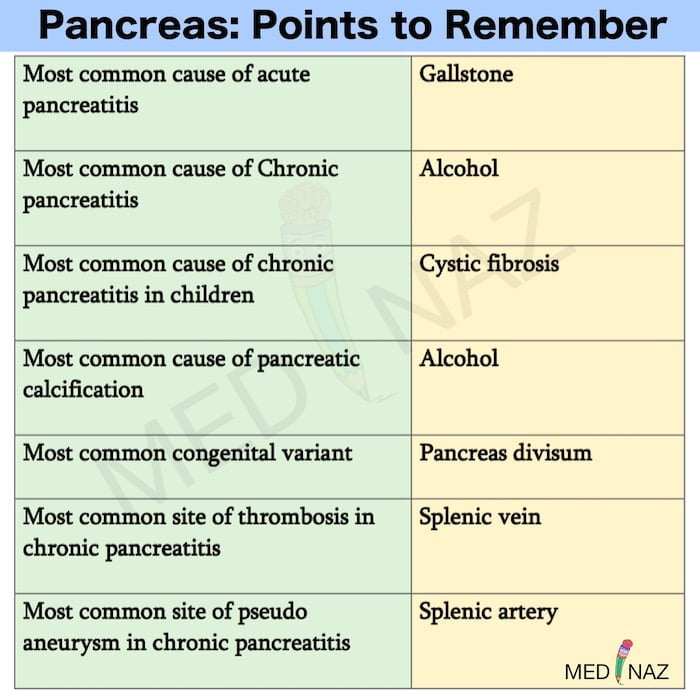 Who is more likely to get pancreatitis?
Few people are more likely to get acute or chronic pancreatitis than others:
Men are more likely to get pancreatitis than women.
African Americans are at higher risk of getting pancreatitis.
People with a family history of pancreatitis have a higher risk.
People who have Family history of gallstones are at higher risk.
Visit the Bookshop section of our website www.medinaz.com & install Medinaz App for Medinaz visual mnemonic & High-yield book. These books are specifically designed for medical, dental, nursing and pharmacy students.
Other mnemonic you may find helpful: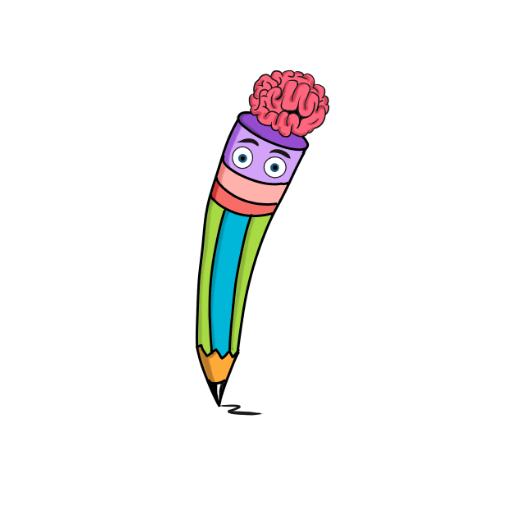 A Visual Learning Platform